"I'm very sorry and I'm just glad nobody is hurt. That's the main thing." -Romain Grosjean​
Limits.
As soon as we're born, it's within our nature to be curious and inquisitive about everything around us. Through success and failure we gain experience, and our future successes and failures are directly reliant upon those studies along with the acceptance of fresh data and even more experimentation. We don't become
Gene Kelly
immediately upon exiting from the womb, but with the proper practice and interpretation of the experiences we gain over time, that goal no longer becomes unobtainable. However, if we aren't intrepid enough to face the initial difficulties of standing, we'd have absolutely no hope.
During our lifetime, we continually test these experiences and measure the outcomes. Good marks in school can lead to rewards at home, while poor behavior can just as easily land you a swift and firm beating. The result of these measurements is referred to as
"capability"
, and generally falls into one of two categories; either you are, or you aren't. Future testing of those same capabilities can begin once the current results are studied and interpreted, along with the addition of new information. Experimentation leads to adaptation, and your survival depends on your Darwinian ability to adapt and evolve.
​
Natural ability, then, is often seen as obtaining repeatable success with minimum experience, data, and effort. Babe Ruth had a natural ability for hitting baseballs over great distances, Albert Einstein used math to explain the universe, and even Flavor Flav retained the ability to
dispel anticipation
amongst a large gathering of people. This natural ability, sometimes known as
"talent"
, is then used by society to measure, separate, and sometimes unite. Four lads that were talented in music became The Beatles,
Rocky Marciano defeated Joe Lewis
, and Leonardo da Vinci is still shaming painters, scholars, sculptors and scientists to this very day. Had they not explored their own limitations, none would be the legend they are today.
At the other end of the spectrum is
"incapability"
and
"inability"
, discovered only by reaching limitations. As a child, I was incapable of having another cookie because of the limitations of my height at the time. These limitations can be either internal or external, and how we reach them and when we stop testing determines our order amongst those of similar interest.
Liberace
was incapable of being stealthy, Donald Trump is incapable of being funny, and even World Champion Sebastian Vettel is
incapable of being a decent human being
.
Either by fact, physics or trepidation, we all have our limits.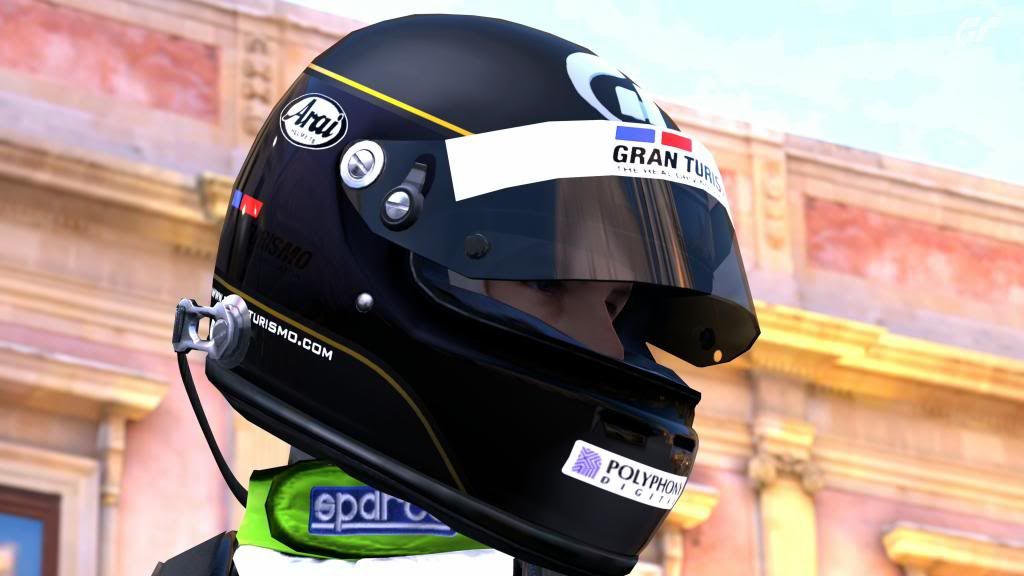 ​
According to Polyphony Digital (via Translator-san):
When I learned that we would be testing not one, but
three
, French cars this week, I was immediately confronted with several limitations that would prove challenging. The first of which was the limits of my self-control and tolerance, as I immediately launched into an explosion of expletives that only
George Carlin could be proud of
. Testing
the Peugeot
as a means of escaping incarceration was one thing, but now I'd been handed my relative freedom and asked to
willingly
be tortured again. Thrice. It's the same thing as saying "well, since you've already taken an nasty spill down a flight of stairs, try these other stairs, and tell us if they hurt less or more."
Next up was my patience, as our executive staff started droning on about
"contractual obligations"
and the legal definitions and penalties of a
"breech"
of said contracts. This was quickly followed by the limits to my creativity, as I was unable to find an escape route, then acceptance of my fate as I was at the limit of my available options. Despite no outward appearance of demonic activity within the room, it certainly felt like forces of evil were conspiring against me in the hopes that I'd reach my limits of sanity. Despite what romanticists will tell you, limitations cannot be exceeded, only adjusted or redefined. I wasn't close to going insane because I was, and continue to be, already insane.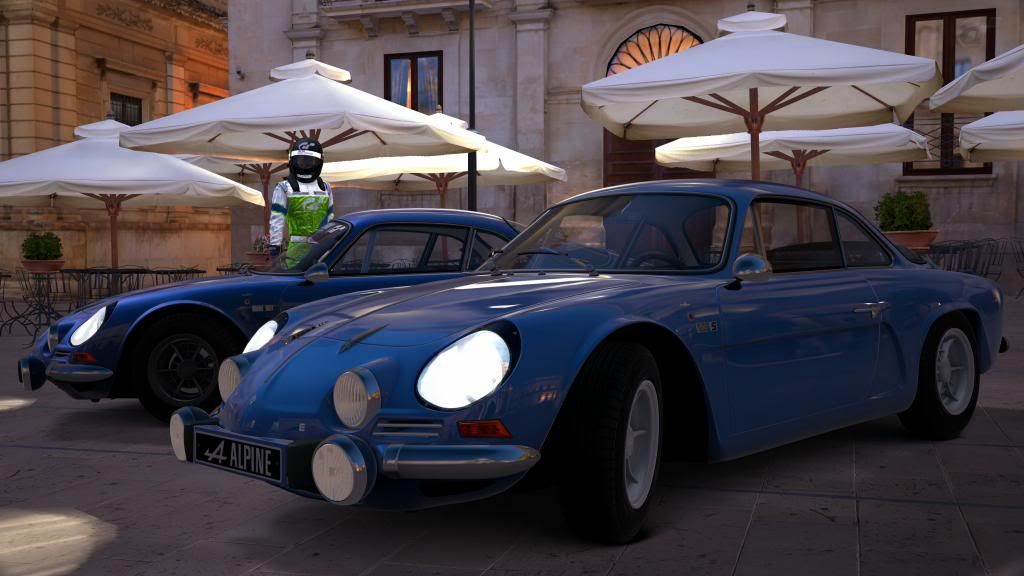 ​
Performance (as purchased)

:
January 26, 2014, Bleu Alpine (Blue)
*1972 model as shown
Displacement: 1,565 cc
Max. Power: 144 HP @ 6,500 rpm
Max. Torque: 119.9 ft-lb @ 5,000 rpm
Drivetrain: RR
Length: 151.6 in., Height: 44.5 in., Width: 59.8 in., Weight: 715 kg
Tires: Comfort (Soft)
Performance Points: 429
Mileage: 116.6 mi
Mercifully, rather than testing three different French manufacturers or models, we'd only be using one model with two available variants. By the grace of God, the word
"Clio"
was nowhere in the the paperwork, but then again there wasn't a Bugatti either. I don't understand exactly how people can claim that there is any god when faced with suffering such as this. If god isn't going to help starving children, then they clearly lack the omnipotence they advertise, and it's only though omnipotence that I ever expect to find myself behind the wheel of a Veyron. Thanks to the enabling praise of blind worshipers in large numbers, every god since the dawn of time has displayed a fragile ego, and clearly the Veyron possesses enough power to rotate the Earth, unite the heavens, and
it will even spare the time to help terminally ill children
. What would Jesus do... if he were just upstaged by
a boat that could turn into a car
? Walk all you want, no miracle is going to get you from Point A to Point B faster than a car.
If you posses the capability of helping starving children across the globe, yet
choose
not to, aren't you equally culpable for their plight? When you give drought, plague, and famine as a gift, how can you possibly claim to be benevolent and just? Do you really expect me to blindly take your word for it that they deserve to suffer? Likewise, when a car maker relentlessly introduces front-wheel drive cars continually, do you believe it's done to save your soul, or a Franc? Do you pray for death by understeer? Perhaps the biggest limitation French automotive design faces today is the knee-jerk reaction to put front-wheel drive in everything.
Had TVR continued
with their wind turbine buffoonery, I'd suggest that this might be the limits of reason, but with
their return
all bets are off.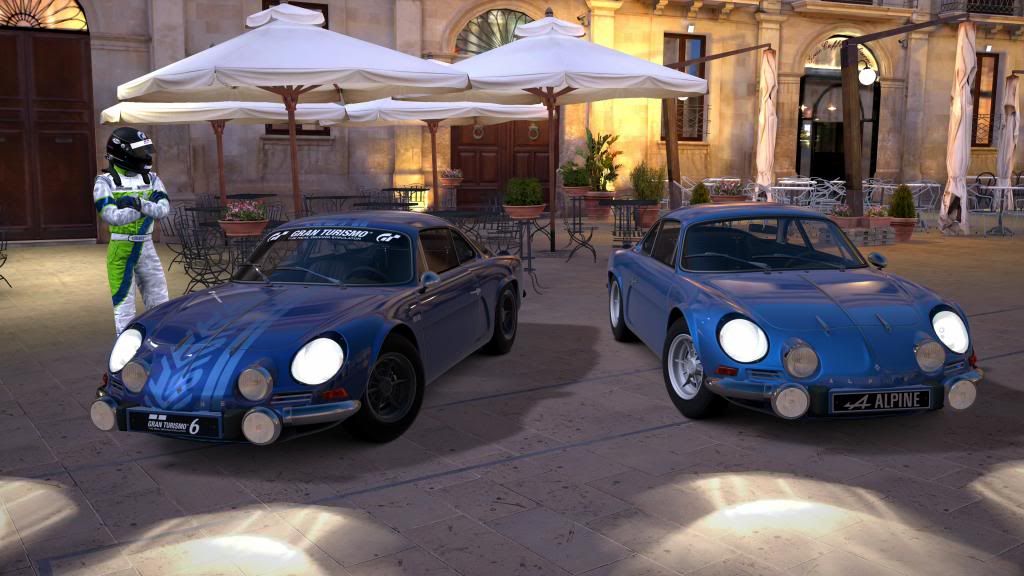 ​
According to Polyphony Digital (via Translator-san):
​
During any test, the credibility and purity of the results is paramount. Flawed data leads to flawed analysis, and as every
Ferrari wind tunnel technician
can attest, the resulting chaos increases exponentially. Having our Super Best Friends, Super Aguri, with us should help us keep all information that's gathered completely safe from calamity, contamination or confusion. It's also important for the testers to be completely unbiased, prepared for whatever results may come, and completely confident in the data and observations they acquire. In a perfect world, you simply step on a scale, and the device would measures the force of gravity upon you, then displays the results in units kilograms. Unless you're American, in which case the kilos are
substituted for cheeseburgers
called
"pounds"
. Because we don't, this machine needs to be re-checked, re-certified and re-calibrated, just like every other measuring device or equipment.
Before we began testing, however, the Best Friends noticed some Super anomalies before the cars had moved an inch. The 1972 Alpine had the smaller engine, yet produced the same power as the larger unit despite being shorted 40 cc, and retained a higher "Performance Point" value. There were no differences in dimensions, power, or weight, yet the '72 appeared on paper to be the weaker of the two cars. The old adage
"no replacement for displacement"
has found it's exception with this car. Despite the added cubic centimeters, there was no weight penalty between the two, indicating that whatever caused this confusion was done internally, not externally, yielding no observable penalties or benefits. While the '73 could boast about its larger engine like a muscle car enthusiast in a Honda dealership, if the performance of the two were equal, then there may be a theoretical disadvantage by decreased fuel economy.
​
Performance (as purchased)

:
February 1, 2014, Bleu Alpine (Blue)
*1973 model as shown
Displacement: 1,605 cc
Max. Power: 144 HP @ 6,500 rpm
Max. Torque: 119.9 ft-lb @ 5,000 rpm
Drivetrain: RR
Length: 151.6 in., Height: 44.5 in., Width: 59.8 in., Weight: 715 kg
Tires: Comfort (Soft)
Performance Points: 426
Mileage: 102.3 mi
Since we're testing the completely French Alpine A110 1600S, you might expect that a French location would be chosen for our weekend of testing. If not Paul Ricard or Le Mans, perhaps something close, like Spa or Monaco. Instead, we've decided to adjust our limits of stupidity by using the French car to invade the streets of London. If you ask me, this is nearly as bad as giving prisoners in
La Bastille
access to
HSN
with an unlimited credit card, but our producer seems incapable of good taste and tact. While not exactly on bad terms today,
England and France
haven't always enjoyed peaceful relations.
While the cars appeared very similar on paper, minus the Anniversary Edition, establishing a baseline of performance is never a simple task. While a child looks at an empty glass and sees nothing in it, the mathematical process for calculating and ensuring absolute zero is maddening and best left to the professionals. While we were confident in the mechanical abilities of the cars and the accuracy of their performance, there wasn't so much confidence in mine. Like the stopwatch and the engines in the cars, I would also be calibrated, measuring each lap against a lap from another cars. If there was any performance to be had by the extra displacement and Performance Points, it was up to me to find it and put it on display. The task would be much simpler if someone could explain what a bloody Performance Point is, but the Super Best Friends are incapable of explaining it on simple terms and I'm incapable of staying awake throughout the lecture.
​
The first car I took out was the 1972 1600S, down on displacement but apparently not on much else. Dropping down three gears before the first turn was a chore in itself, and the location of the engine above the axle didn't help any. That being said, I expected the car to handle like a Porsche, but because the engine doesn't hang behind the rear axle but on top instead, the A110 didn't exhibit the traditional nervousness that I usually experience in rear-wheel drive Porsches. But like the Porsche, corrections to steering had to be carefully thought out because they would be equally dramatic, darting you head-on into whatever barrier you happened to be looking at. With this sort of layout, the general rule is that if you take your eyes away from road ahead, you'll soon plow into whatever caught your attention.
Turn 1 is a tight right hand turn, but after getting a few warm up laps in, I was able to maintain a reasonable amount of grip in the tires and keep the
attitude of the car positive
. The near-90 degree S curves of Turns 2 and 3, however, would test my courage on a regular basis. As the speed increased, so did the strain on my reflexes and timing, culminating with Turn 3 being taken sans wheels. During the transition between 2 and 3, the sudden and rapid change of direction was enough to lift the entire right side off the asphalt while I was left to cope with every danger sense in my mind on meltdown.
Flipping the Buick
in Germany had provided me costly education on the misuse of curbing, but here the barriers were lethal, close by, and I didn't need the psychological trauma again as another reminder. With a 1:02.849 in the books, I was relieved to be back in the pits.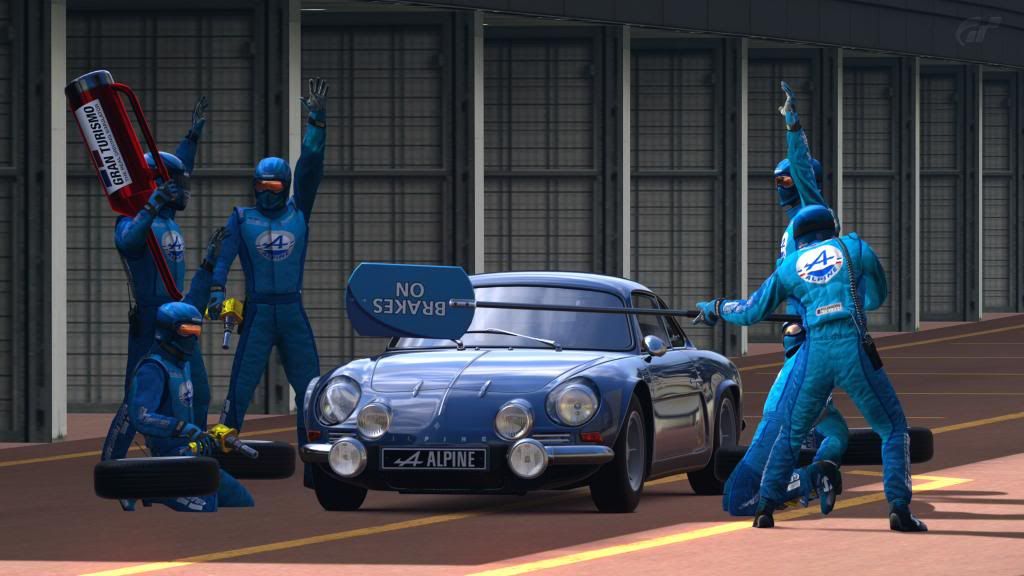 ​
According to Polyphony Digital (via Translator-san):
Next was the '73 1600S, and as for the extra cubic centimeters, it was a bit disappointing. I didn't expect any extra power, but adding excess complications of manufacturing the larger engine didn't feel like it was producing any positive results. Lap after lap I attempted to push the limits of myself and the car, this one also obtaining a two-wheeled
"gangsta lean"
on the exit of Turn 3.
T
he car didn't feel any better with the "upgraded" rear suspension. If anything, it seemed to be softer than the '72, which isn't to say it was better or worse, just different. Although feeling softer, the articulation of the suspension kept the tyre firmly planted to the pavement, minus Turn three where it attempted to give passers by a high five.
Also different was the gearing. In the '72, I'd drop three gears before going into Turn 1. With the '73 it was only two gears, but the response felt lazier and bogged down when compared to the '72. I'm no mechanical engineer or black magic wizard, but by feel alone I could tell that were I to push this car for the same lap time, I'd either end up dead or wishing I were
to avoid paying for the car
. Instead of feeling like the earlier model, the car felt eerily similar to
the DeLorean we'd tested years ago
, also powered by a Renault engine. Or rather, underpowered. From a competition standpoint, I might be able to justify the small differences between the '72 and '73 with only the promise of adding more modifications, but without spending ages learning how to modify the '73 for the added benefits allotted to it, I don't understand why Alpine would make such a drastic change unless it added to the overall package. In this case, I wasn't seeing any benefit, and with a time of 1:03.336, neither was the stopwatch.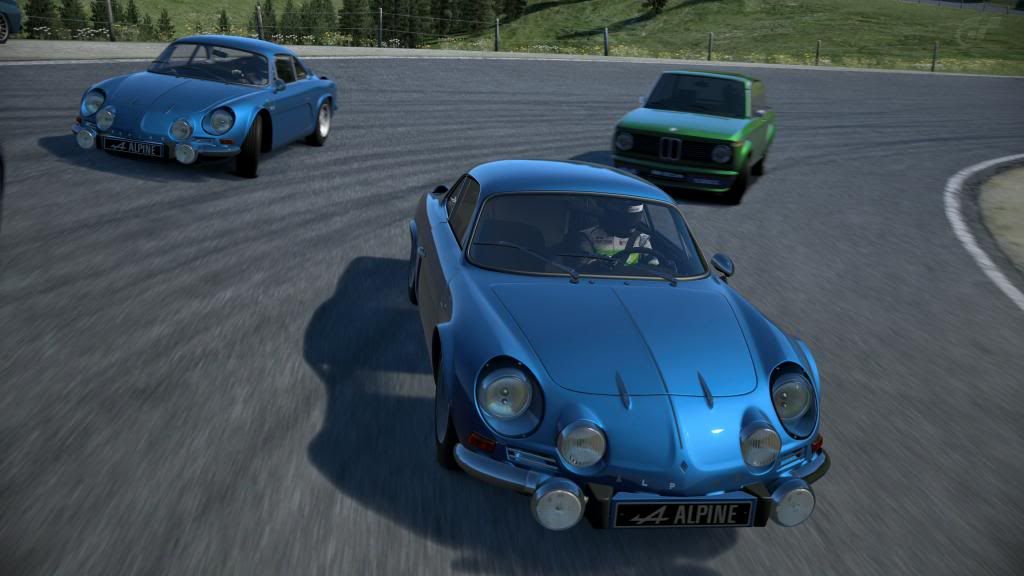 ​
Performance (as purchased)

:
December 6, 2013, Alpine (Blue)
*'72 15th Anniversary Edition
Displacement:
CLASSIFIED
Max. Power: 206 HP @ 6,500 rpm
Max. Torque: 170.1 ft-lb @ 5,000 rpm
Drivetrain: RR
Length: 151.6 in., Height: 44.5 in., Width: 59.8 in., Weight: 715 kg
Tires: Comfort (Soft)
Performance Points: 479
Mileage: 47.3 mi
Saving the best for last, I hopped into the special Anniversary Edition, fully prepared for an even slower time because more had been added to it. The previous test had shown that even though it had a larger engine, the '73 was still slower than the previous year's car by half a second, an eternity in the minds of race car drivers. That apprehension was soon relieved, as the extra horsepower was immediately apparent and appreciated. I'd also noticed that the different tires and suspension settings helped maintain all four tires on the ground, but the added power also required heavier braking and an enormous amount of planning before the turn actually approached. If you weren't a corner ahead mentally, the Alpine would bite as swiftly and deadly as a cobra.
With a few laps to appreciate the added performance and power, I was able to tick off a 1:01.166, and I'm convinced that even more could be extracted had my testicles been of an appropriate mass. Although I was more conservative in this car than the others, I'd still managed to demonstrate what the 60 extra horses were worth over a second and a half on the track, or if your an investment banker, a mint. With enough laps, that could easily translate into a pit stop for tyres before even coming close to the other two when exiting.
​
If the common man looks at a ruler, or almost any unit of measure, there is a clear line that divides the points where one measurement ends and another begins. For race car drivers, that small little notch becomes expanded to the similar dimensions of a football pitch. In between the two measurements lies an infinite amount of possibilities, some successful and some not. Within that tiny notch or mark is where the racer extracts tenths, hundredths, and even thousandths of a second. This translates to inches, then feet, and eventually miles. This subtle difference separated Senna from Prost, and it's in this minute space that legends are manifested.
But like every vice, there is a darker side that also requires attention. You'll know that darker side because as you begin to explore your limits, or the car's, you'll hear the
siren song of performance
calling you towards your demise. Senna felt its sting in Monaco when he crashed out while in the lead. Any driver that tells you they drive at 100% for an entire race is a liar. Driving 100% throughout a race leaves absolutely no room for error correction, adjustment, or adaptation. Combined with the constantly changing attributes of the car as fuel lightens or of the track as fluids are leaked, driving full tilt 100% of the time means that you're oblivious when those minute changes eventually happen, and unprepared for how to deal with them.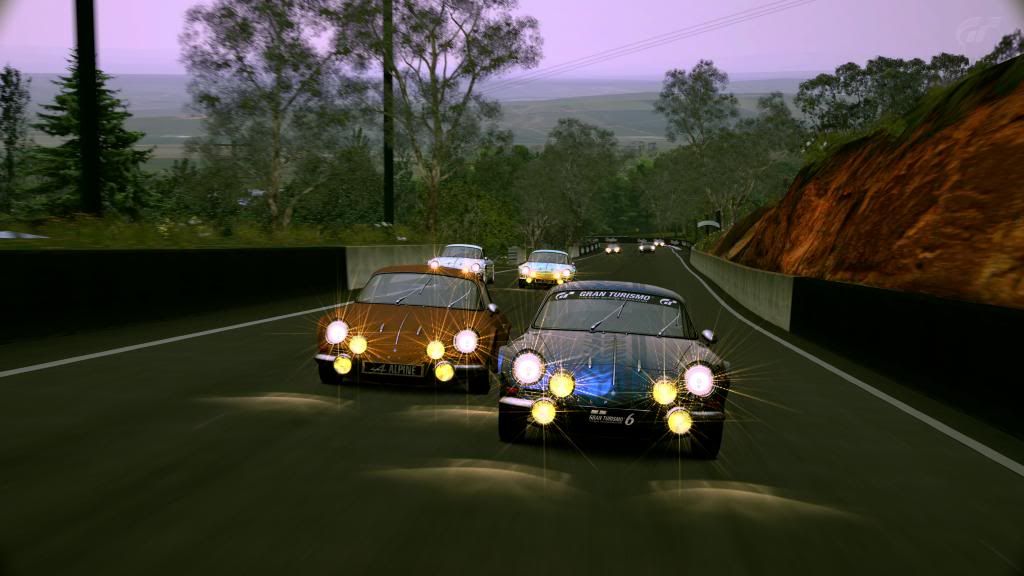 ​
Mauro and Lucien Bianchi, Jean-Pierre Beltoise, Patrick Depailler, Jean Todt, Michèle Mouton, Henri Pescarolo and Pauli Toivonen have all raced under the Alpine banner. Pauli Toivonen fathered Henri Toivonen, who had the pleasure of being
our very first rally car test
. The Bianchi's eventually helped bring
young Jules
into world, and he now resides with Marussia in Formula 1. Jean-Pierre Beltoise also raced in F1 as did Depailler, while Jean Todt later went on to help Ferrari rekindle its love affair with championships and winning races. Michèle Mouton proved alpha males are complete idiots, on and off the track, while Henri Pescarolo also drove in F1 before dominating Le Mans and nearly everyone in it.
For being such a small mark, limited in production numbers and the occasional French Five o'clock Friday attitude, Alpine contains one of the richest heritages in all of motorsport. Before creating the company,
Jean Rédéle
was himself a racer. Like
Carroll Shelby
, he also managed the nearly impossible feat of winning in his first ever race before going on to participate in the infancy of the WRC. It was the A110 that took the inaugural WRC crown, before the company was eventually bought by Renault. Although they might not be as well known as their Ferrari and McLaren counterparts, the depth of history within motorsport is certainly on par, and it shows in their cars.
The funny thing about limits is that, like rules, they're made to be broken. Okay, not broken in the traditional sense
(as I said earlier)
, but... adjusted.
Caterham has recently purchased 50% of Alpine
, and both plan on introducing a shared sports car within the coming years. If both manage to pull it off, we could eventually see the return of Alpine to Formula 1, either as Caterham or alongside as their competition.
And who are we to be limited by our imagination?
*The views and opinions expressed in this review do not necessarily reflect those of the manufacturer, the publisher, GTPlanet.net or it's members, nor anyone with an IQ above 3. If you have a history of epilepsy or seizures, consult a doctor before use. Certain patterns may trigger seizures with no prior history. Before using see the instruction manual included with your system for more details. For previous reviews, please visit: McClarenDesign's Very Serious SLS AMG Reviews of the Car of the Week N Stuff. Void where prohibited. All videos were filmed before a live studio audience. Car setup monitored by Dark Lion Racing's GT6 Tunes and Tricks app on Android, as administered by Super Best Friends Super Aguri. Contains wheat and soy ingredients. No goats were harmed in the making of this review that we are aware of. This product may cause significant hair loss, headaches, and damage to the immune system. Best wishes to Michael Schumacher! To advertise, contact McClarenDesign@gmail.com.
-

Super Previous Super Reviews

-

​
Insightful... but bollocks: Introduction To Failure (or How I went from a Very Serious SLS AMG to Super Best Friends Super Aguri)
Week 1: '10 Peugeot RCZ
Week 2: '88 Volvo 240 GLT Estate
Week 3: '87 Buick Regal GNX
Week 4: '57 BMW 507 vs '55 Mercedes-Benz 300 SL